pathfinder

Top contributor

Posts

: 1450


Join date

: 2014-02-23

Tue Jun 23, 2015 7:56 pm
Message reputation : 100% (2 votes)
For about 2yrs NEST is trading within the box shown in the chart.Recently it checked Rs.2000 and bounced back.RSI is coming out of over sold region and looking forward.Need about 50-70k shares to break the box.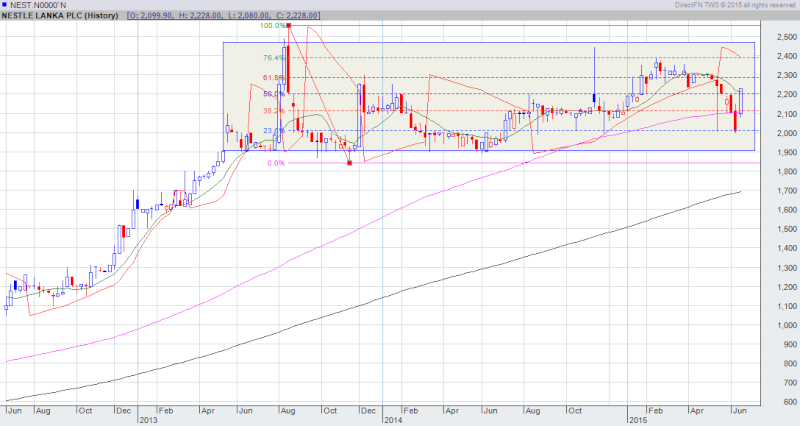 dhanurrox

Posts

: 779


Join date

: 2014-03-27

NEST and CTC both were manipulated down to 2000 and 900.NEST tech itself is not enough and the sentiment is not good now after India issue.Locals are making their voice.
serene

Top contributor

Posts

: 4849


Join date

: 2014-02-26

Hybrid

Posts

: 745


Join date

: 2015-02-03


Location

: Colombo

Tue Jun 23, 2015 8:19 pm
Message reputation : 100% (2 votes)
I tell you that no one can easily distrurb the waters for Nestlé based on the CSE patterns.

1) For one thing it's over 90% owned by The parent company and those who want to buy now will be a good oppurtunity. The low price is short lived and by July it will be back where it belongs.

2) Then there is a very clear straight line of sales growth  in local and export sales.

3) its path is chartered and its on international waters. 

4) there is no need to panic as nothing will happen to the value of this share in the medium term.

5) if you want to dream, dream that it will increase its shares offered to the public in compliance to SEC rules.

6) the worst dilemma that could happen is for them to delist. Local share holders will suffer. This is a possibility as they do not have any need for funding or get any benefit by being there.

7) if you have no time to check the CSE and trade then buy This share. Can't go that wrong.
Permissions in this forum:
You
cannot
reply to topics in this forum