+3
The Invisible
Ethical Trader
slstock
7 posters
slstock

Veteran

Posts

: 6216


Join date

: 2014-06-12

Wed Oct 31, 2018 11:53 am

This thread is created to post General news in SL and Abroad.
Please post all relevant under it.

Ethical Trader

Top contributor

Posts

: 5568


Join date

: 2014-02-28

ක්‍රිකට් තරග පාවාදීමේ චෝදනා: නුවන් සොයිසාට තාවකාලික තහනමක්
   පැයකට පෙර BBC Sandeshaya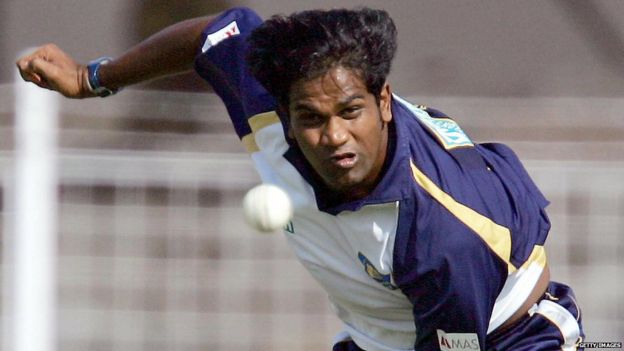 Image copyright Getty Images
ශ්‍රී ලංකා ක්‍රිකට් ආයතනයේ පුහුණුකරුවෙකු ලෙස කටයුතු කරන හිටපු වේග පන්දු යවන ක්‍රීඩක නුවන් සොයිසාට ජගත් ක්‍රිකට් පාලක මණ්ඩලය විසින් නිල වශයෙන් දූෂණ චෝදනා ඉදිරිපත් කරනු ලැබ තිබේ.
ඔහුට එසේ චෝදනා ඉදිරිපත් කර තිබෙන්නේ ජාත්‍යන්තර ක්‍රිකට් තරග පාවාදීමට උත්සාහ දැරීම හා සම්බන්ධ, ඒ සඳහා ක්‍රීඩකයෙකු පොළඹවා ගැනීමට උත්සාහ දැරීම හා සම්බන්ධ සහ දූෂණවලට සම්බන්ධ වීම සඳහා සිදු වූ කිසියම් පෙළඹවීමක් අනාවරණය නොකිරීම හා අදාල වගන්ති යටතේය.
ඒ අනුව අන්තර් ජාතික ක්‍රිකට් කවුන්සිලයේ දුෂණ විරෝධී පනතේ 2.1.1, 2.1.4 සහ 2.4.4 යටතේ ඔහුට චෝදනා ගොණුකර ඇත.
එම චෝදනාවලට පිළිතුරු දීම පිණිස බ්‍රහස්පතින්දා (නොවැම්බර් 1 ) සිට ඔහුට දින 14 ක කාලයක් ලබා දී ඇති බව ද අයිසීසීය නිකුත්කළ නිවේදනයක දැක්වේ. ඒ අතරවාරයේ ඔහුට වහාම ක්‍රියාත්මක වන පරිදි තාවකාලික ක්‍රීඩා තහනමක් ද පණවා තිබේ.
අඟහරුවාදා (ඔක්තෝබර් 30) එංගලන්තයට එරෙහිව පැවති පුහුණු තරගයේදී ද ඔහු ශ්‍රී ලංකා කණ්ඩායමේ පුහුණුකරුවන් අතර සිටියේය.
මීට සතියකට පමණ ඉහතදී ජගත් පාලක මණ්ඩලයේ නිලධාරීන් විසින් ඔහුගෙන් ප්‍රශ්න කරන ලද බව ශ්‍රී ලංකාවේ මාධ්‍ය වාර්තා කර තිබිණ.
මේ අතර දූෂණ විරෝධී නීති දෙකක් උල්ලංඝණය කිරීම සම්බන්ධයෙන් පිළිතුරු සැපයීම පිණිස සනත් ජයසූරියට පසුගිය ඔක්තෝබර් 15 සිට දින 14 ක කාලයක් ලබාදෙන බව අන්තර්ජාතික ක්‍රිකට් කවුන්සිලය පසුගියදා නිවේදනය කළේය.
ඒ අනුව, ශ්‍රී ලංකා කණ්ඩායමේ තේරීම් කමිටුවේ හිටපු සභාපතිවරයෙකු වන සනත් ජයසූරියට එරෙහිව අන්තර්ජාතික ක්‍රිකට් කවුන්සිලය මතු සඳහන් චෝදනා දෙක ඉදිරිපත් කර තිබේ.
   නීති සංග්‍රහයේ 2.4.6 වගන්තියට අනුව - අසමත් වීම හෝ ප්‍රතික්‍ෂේප කිරීම: පිළිගත හැකි හේතුවක් නොමැතිව දූෂණ විරෝධී ඒකකය මෙහෙය වූ කිසිදු පරීක්ෂණයකට සහයෝගය නොදැක්වීම සහ පරීක්ෂණයට අදාළ තොරතුරු සහ/හෝ ලේඛන නිවැරදි ලෙස සහ සම්පූර්ණ ලෙස ඉදිරිපත් කිරීමට අපොහොසත් වීම.
   නීති සංග්‍රහයේ 2.4.7 වගන්තියට අනුව - දූෂණ විරෝධී නීතිය යටතට ගැනෙන දූෂණයක් හෙළි කර ගැනීම සඳහා අවශ්‍ය පරීක්ෂණයට අදාළ හෝ පරීක්ෂණයේ සාක්ෂි විය හැකි වාර්තාවක් හෝ වෙනත් තොරතුරක් ආවරණය කිරීම, වෙනසකට භාජනය කිරීම හෝ විනාශ කිරීම, දූෂණ විරෝධී ඒකකය මගින් ක්‍රියාත්මක කළ පරීක්ෂණයට බාධා කිරීම හෝ ප්‍රමාද කිරීම.
එම චෝදනා සම්බන්ධයෙන් නිවේදනයක් මගින් ප්‍රතිචාරය පළ කළ සනත් ජයසූරිය, ඒ සම්බන්ධයෙන් කිසිදු ප්‍රකාශයක් නොකරන ලෙසට නීතිමය උපදෙස් ලැබී තිබෙන බව සඳහන් කර තිබුණි.
කෙසේ වුවත් තමන්ට එල්ල වී ඇති චෝදනා "තරග පාවා දීම්, තණතිලි වෙනස් කිරීම් හෝ වෙනත් දූෂණ ක්‍රියාවක් සම්බන්ධ ඒවා නොවන බව ප්‍රකාශ කරමි," යනුවෙන් ද ඔහු අවධාරණය කර තිබුණි.
The Invisible

Posts

: 3116


Join date

: 2016-11-28


Age

: 44

Thu Nov 01, 2018 9:54 am
Message reputation : 100% (1 vote)
Tokyo stocks open lower as yen edges higher

Tokyo, Japan | AFP | Thursday - Tokyo stocks opened lower on Thursday as fresh concerns emerged over the prospects for the Chinese economy with a firmer yen also weighing on the market.

The benchmark Nikkei 225 index was down 0.15 percent or 32.59 points at 21,887.87 in early trade, while the broader Topix index was down 0.09 percent or 1.50 points at 1,644.62.

The dollar fetched 112.86 yen in early Asian trade, unchanged from New York, but lower than above-113 yen levels in Tokyo late Wednesday.

Chinese factory activity slowed in October, official data showed Wednesday, adding to a growing list of bad news for the Asian giant as it struggles to maintain economic momentum in the face of US tariffs and a weakening yuan.

The Purchasing Managers' Index (PMI), a key gauge of factory conditions, came in at 50.2 for the month, down from 50.8 in September, the National Bureau of Statistics said.

The official PMIs "were the latest downbeat indicators," Mark Williams of Capital Economics said in a note to clients.

"The Markit manufacturing PMI due on Thursday is the next indicator to watch," he said.

The fall in Japanese shares is in part a rebalancing, in "reaction to a rise of more than 460 yen in the Nikkei index yesterday," Toshiyuki Kanayama, senior market analyst at Monex in a commentary.

In Tokyo, telecoms nosedived after the industry leader NTT Docomo said it would cut fees under government pressure, with its shares down 10.14 percent at 4,268 yen.

Its smaller rivals were also down: KDDI plummeted 14.97 percent to 2,393 yen and SoftBank was off 7.13 percent at 8,402 yen.

Panasonic dropped 9.80 percent to 1,127 yen after it reported its first-half to September net profit fell 4.5 percent on-year to 113.6 billion yen ($1 billion).

Some carmakers were lower, with Toyota down 0.78 percent at 6,563 yen and Nissan off 0.53 percent at 1,022 yen.

On Wall Street, the Dow ended up 1.0 percent at 25,115.76.
The Invisible

Posts

: 3116


Join date

: 2016-11-28


Age

: 44

Tue Nov 06, 2018 8:37 am
Message reputation : 100% (1 vote)
Tokyo stocks open higher as investors wait for US vote

Tokyo, Japan | AFP | Tuesday - Tokyo stocks opened higher on Tuesday as the dollar held steady against the yen with a growing wait-and-see mood ahead of US midterm elections.

The benchmark Nikkei 225 index rose 0.63 percent or 138.93 points to 22,037.92 in early trade while the broader Topix index was up 0.47 percent or 7.74 points at 1,648.13.

"A wait-and-see mood is likely to grow on the Tokyo market today ahead of US mid-term elections," Okasan Online Securities said.

The dollar was holding firm, changing hands at 113.23 yen against 113.20 yen in New York Monday afternoon, ahead of polls seen as a referendum on President Donald Trump's performance since taking the White House.

Most experts expect the Democrats will win the House of Representatives, while the Republican party will hold onto control of the Senate.

"If so, we can look forward to Trump going harder on trade, looser–still fiscal policy and even more vociferous attacks on the Fed," Rodrigo Catril, senior foreign exchange strategist at National Australia Bank, said in a note.

Investors hardly reacted to Japanese government data that showed household spending slipped 1.6 percent year-on-year in September, confirming consumption remains slack.

In Tokyo stocks trade, SoftBank rose 2.52 percent to 8,968 yen after announcing stellar half-year earnings. The company's boss condemned the killing of Saudi journalist Jamal Khashoggi, but confirmed he would continue to do business with the Middle Eastern kingdom.

Toyota was up 0.64 percent at 6,536 yen ahead of its release of earnings later Tuesday.
ruwan326

Posts

: 1744


Join date

: 2016-09-29


Age

: 45


Location

: Horana

Sun Nov 11, 2018 6:35 am
Message reputation : 100% (2 votes)
Economy needs national safeguards
11 November, 2018

Poor economic policies and shortsightedness in business decisions of the United National Party (UNP) have pushed the country backwards to a point of no return, says Dr. Indrajith Aponsu, Assistant Director of the Econsult Investment Services and Senior lecturer at the Department of Economics, Colombo University.



He said the economy needs national safeguards.

"This government has been in power since the beginning of 2015. During that period for various reasons the country's economic situation started deteriorating. This was something which no one would have expected when this government took office in 2015. Historically, the UNP government has always been an investor friendly government. Ironically, what happened was the exact opposite," Dr Aponsu told the Sunday Observer.

Citing possible reasons for the negative performance of the past regime, he said that the UNP had lost its focus from the start.

"Prior to the regime change the economy was doing well. During that time economic growth was on an upward trend recording seven per cent or more economic growth, infrastructure was in place, the war against terrorism was eradicated, foreign direct investors were keen on investing in Sri Lanka, inflation was decreasing and interest rates were on a low trajectory," he said.

Criticising the economic policies that were adopted at the time, he said that the deterioration of the economy started under the UNP government.

He said that the price of a barrel of oil coming down to US$ 30 a barrel when the ÜNP government was in power, provided a de facto foreign exchange saving for the government which would have been enough for the government for the foreseeable future.

Calling the government's decision to give public sector workers a Rs.10,000 increase was a mistake and he also said that under the 2015 government the country was managed according to social market economy policies.

During that time, the government was under pressure to curtail expenditure. But the government burdened themselves with roughly about Rs.13 billion extra expenditure on salaries every month.

"It was a massive burden on the budget, they couldn't recover from that. It was additional salary expenditure of Rs.150 billion every year. The government could have constructed 50 first class hospitals with that money. It would have made a big difference to the society at large. The government's decision to spend extra money on public sector salaries was an amateurish decision by the government. This extra burden on the government would continue until inflation discounts it in about five to ten years. According to economic theories expenditure brings aggregate demand. "Aggregate demand is where people are made to spend," Dr. Aponsu said.

Commenting on the public sector salary increments he said that the salary increase was an injection towards only a particular sector of the society.

"This was disadvantageous towards other sectors of the society. Most of the public sector workers took loans to buy vehicles.

There was an influx of vehicles into the country which drained a huge chunk of foreign exchange. Much foreign exchange was spent on consumer goods. Car imports went up by about 150% in 2015. Indirect taxes were increased by the government. It was tough on the poor population," he said.

Analysing how the UNP and the SLFP embroiled on a collision course, he said, the government lost the grassroots and everyone due to the coalition. Countries which record high economic growth have managed the markets. J R Jayewardene tried to have a blend between the open economy and managed economy. In between other rulers tried various methods. The 2015 government followed the open economy policy. This would have damaged the country.

"Sri Lanka has been a welfare economy from 1931 with a 90% literacy rate and the Sri Lankan economy is not a "South Asian economy" in that sense. The last government did not understand this.

The total free market concept has failed all over the world. The total free market policywhich was experimented in Latin American countries in the 70s and 80s failed to the extent that they have not yet recovered from those consequences," Dr Aponsu said.

Agriculture is a sector which fluctutates every year but the worry was that the industry and services also deteriorated under the past government. Garments didn't flourish despite the GSP+. You cannot raise cost structures of industries and then ask them to export. There are many countries which can compete with Sri Lanka. A future government should try not to score marks on financial policies and rectify issues in the economy.

Sri Lanka was not prepared for the U.S government's increase of interest rates. The increase of interest rates is like a black hole or tsunami. It sucks funds from all over the world. So, anything that is invested here would simply go out.

The past government was caught off guard for that situation although they had the ability to collect much foreign exchange with the dropping of oil prices. The present government has a responsibility to stop the exchange rate drop. When the exchange rate is going up you cannot handle interest rates.

http://sundayobserver.lk/2018/11/11/opinion/economy-needs-national-safeguards
Brave Heart

Posts

: 171


Join date

: 2018-10-17

Mon Nov 12, 2018 7:48 am
Message reputation : 100% (1 vote)
serene

Top contributor

Posts

: 4850


Join date

: 2014-02-26

Mon Nov 12, 2018 7:57 am
Message reputation : 100% (1 vote)
Thanks Ruwa.
Good article have to agree with the content.
It was a huge mistake on the part of YAHAPALANAYA coyple with unnecessa fuel price reduction.
We paid the price dearly
CK

Active Member

Posts

: 1393


Join date

: 2015-11-01

Mon May 13, 2019 3:01 pm
Message reputation : 100% (1 vote)
Police curfew has been imposed in Kuliyapitiya, Bingiriya, Dummalasuriya and Hettipola Police divisions from 2 pm this afternoon (13), stated the Police Media Spokesperson. MORE..
May 13, 2019
CK

Active Member

Posts

: 1393


Join date

: 2015-11-01

Gazette issued banning three groups including NTJ
May 14, 2019 09:40 am

-
The government has issued an extraordinary Gazette notification proscribing three organizations in the country.

The National Thowheed Jama'ath, Jama'athe Milla'athe Ibrahim and Willayath As Seylani have been banned accordingly.
CK

Active Member

Posts

: 1393


Join date

: 2015-11-01

Tue May 14, 2019 11:49 am
Namal Kumara-Amith Weerasinghe arrested
May 14, 2019 11:47 am

-
The Leader of Maha Sohon Balakaya Amith Weerasinghe and the Director of Anti-Corruption Movement Namal Kumara have been arrested.

Reportedly, the arrests have been made today (14) by a special police team, stated the Police Media Spokesperson.

Amith Weerasinghe has been arrested at Theldeniya while Namal Kumara was arrested at Warakapola.
The Invisible

Posts

: 3116


Join date

: 2016-11-28


Age

: 44

Tue Jul 23, 2019 8:46 am
Message reputation : 100% (1 vote)
President hits back at Cardinal Malcolm

By Our Political Correspondent

Jul 23, 2019 06:28 AM GMT+0530 | 0 Comment(s)

ECONOMYNEXT - President Maithripala Sirisena lambasted Cardinal Malcom Ranjith over his call for the government to step down for allegedly failing to ensure an effective investigation.

Sirisena said the cardinal had used the third anniversary of the Easter Sunday bombings to launch a politically motivated attacks against him as well as the authorities investigating the attack.

He did not directly name the cardinal, but made it clear that he was referring to Malcolm Ranjith's politically-charged sermon from the St. Sebastian's church.

The Cardinal had asked Sirisena to "go home" and also accused him of failing to resist pressure from unnamed powerful countries to allegedly weaken intelligence services.

"If anyone is unhappy about the investigations, they are free to go to court," Sirisena said adding that those who were accusing were according to a hidden political agenda and was being supported by drug dealers.

In a thinly veiled reference, the President suggested that the cardinal was being backed by a local opposition politician in Negombo who has been accused in parliament of dealing in drugs.

The President challenged the cardinal to a public debate on the current status of the investigation and the measures taken by the authorities to ensure non-recurrence.

He said he had the highest respect for the Pope, but was dismayed by underhand activities of some others he did not name.

(COLOMBO, July 22, 2019)

Permissions in this forum:
You
cannot
reply to topics in this forum