June 2018
| Sun | Mon | Tue | Wed | Thu | Fri | Sat |
| --- | --- | --- | --- | --- | --- | --- |
| | | | | | 1 | 2 |
| 3 | 4 | 5 | 6 | 7 | 8 | 9 |
| 10 | 11 | 12 | 13 | 14 | 15 | 16 |
| 17 | 18 | 19 | 20 | 21 | 22 | 23 |
| 24 | 25 | 26 | 27 | 28 | 29 | 30 |
Calendar

Disclaimer

Information posted in this forum are entirely of the respective members' personal views. The views posted on this open online forum of contributors do not constitute a recommendation buy or sell. The site nor the connected parties will be responsible for the posts posted on the forum and will take best possible action to remove any unlawful or inappropriate posts.
All rights to articles of value authored by members posted on the forum belong to the respective authors. Re-using without the consent of the authors is prohibited. Due credit with links to original source should be given when quoting content from the forum.
This is an educational portal and not one that gives recommendations. Please obtain investment advises from a Registered Investment Advisor through a stock broker
Page 5 of 5 •

1, 2, 3, 4, 5

Elliott waves may sometimes coincide with business growth phases; but the two, better not be taken together.

The basis of Elliott waves is psychological [not business performance].

And it is, just like Fib levels, observable in natural movements as well.

For example; you may have heard what happened when the tsunami took place. There were approximately 3 waves; first one small, second one big and so on.

During an earthquake also they say, you can experience a series of quakes.

After all, there are only minor differences between the behavioral patterns of a mass of water, a mass of soil and a mass of Homo sapience.



Yin-Yang




Posts

: 965


Join date

: 2016-03-12



dear yin yang
i just use the Elliott wave to illustrate the strategy as the discussion start with the Elliott wave .The idea is originally built on the idea of EARNING MATURATION CYCLE check the YK's post for reference YK also tells its looks like product maturation cycle.that is also not a coincident there is no wonder companies earnings follows the same path the product travel as companies profitability depends on product .then the price also have to travel on the same path of course its depends on investors mind investors cant resists the urge to buy the companies that gives continues earning surprises. investor can resist up to some time but cant resist after a specific point thats why we use the technical to identify that specific point thats way this strategy called specific entry point analysis

do know the history of this techniques
SEPA developed from rigorous research decades of application in the real world and observed facts not personal opinions
neither i or mark minervini simply accept this strategy
he also develop this upgraded version after reading several successful investors
including william o nail who is the founder of CAN SLIM.how many of you know william o nail is founder of cup with handle pattern as well .initial history began in 1907 with jesse livermore the greatest trader ever .he made 3million in a single day .even in the 1929 great crash (if some one read stocks for long run will understand what is great crash means even the famous Irving Fisher went bankrupt during this great crash)livermore made a whopping 100 million .from one market professor to next lessons were consistent the basics what make the super performance stock in the past had not changed

007




Posts

: 159


Join date

: 2014-11-29



xmart wrote:

we may expect MT support to hold for now. 6680-6700 will provide some good fight for bull (0.5 fib) and it is essential ASI to break above 6700 to stay in bull trend. if rejected 6400, 6250 will provide some support, but highly unlikely with given market sentiment and September results. in a nutshell, i am expecting a super September.

good luck all!
well, our Elliot pattern broke where wave 3 wasn't strong enough to break the high made by wave 01. this is why i mentioned breaking of wave 01 high from wave 3 as the safest entry.
anyway, its a new month and lets look at the chart.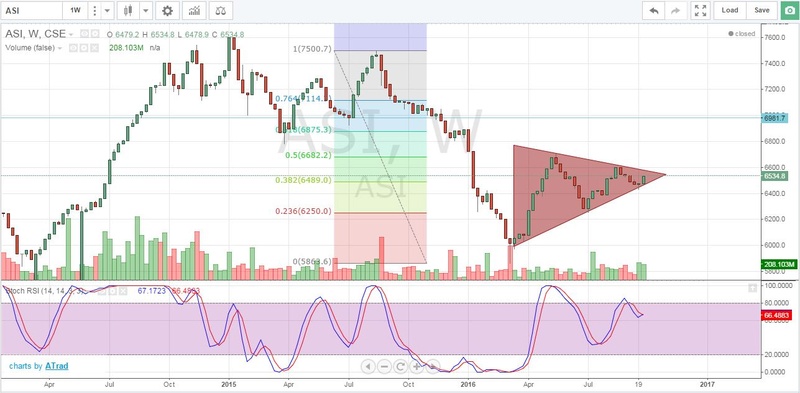 as we can see here, bulls and bears are fighting equally and that have created a symmetrical triangle, which is non-directional pattern. but breaking of the triangle would lead to a new trend.
breaking of 6600 would trigger the target of 6880 and 7100 respectively.
breaking of 6380 would trigger the targets of 6250 and 6000.
anyway, believing the MT support to hold, i expect the ASI to break upward.
good luck all!

xmart

Top contributor





Posts

: 574


Join date

: 2015-01-17



Why traders always limit themselves to triangles and boxes?

Can't they make use of other polygons such as pentagons, hexagons, heptagons + + +

Yin-Yang




Posts

: 965


Join date

: 2016-03-12



since we have talked about ACME, i think it is better to give an early warning,
xmart wrote:axe,

still the pattern is too early to be ascending triangle. this could take many forms. the good news is ACME had come out from MT resistance trend. making that "W" with a higher low after a downtrend is a good reversal point.

there is a big resistance at 8.80-9.00 range. breaking above 8 will trigger the target of 8.80-9.00 range. furthermore, each stock has its unique way. if you carefully look at weekly candlestick chart you may see dojis at start and end point of each rally.

CCI gave a buy signal at 7.60-7.80 level (22.08.2016) after 28.04.2014. which cannot be ignored very easily (for me)

on financial note:
this is still a loss making company. they went through a restructuring process, change management and reduced loss very well. if they produce a positive earning this will appreciate more. if they fail to return 'from loss making territory, then this technical rally might not sustained and may return to 6.5 level.

good luck.

P:S- i have collected this share from 6 to 6.60 averaging 6.20. my view might be bias but tried to give a balance view.
here is the latest chart ACME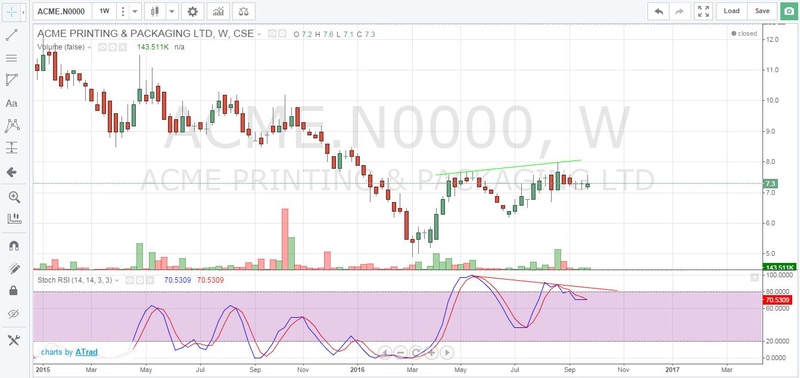 we can see a bearish divergence occurring in weekly chart. if you are short term and with profit, it is better to exit. if you are short term and with loss, wait till the stop loss trigger. if you have collected on purpose, then ignore the trend.
cheer!

xmart

Top contributor





Posts

: 574


Join date

: 2015-01-17



For educational purposes:

Has 'breaking of wave 01 high from wave 3' occurred in ACME ?

Yin-Yang




Posts

: 965


Join date

: 2016-03-12



Thanks Xmart.. I'm currently in profit, but wasn't aware of this development. I'll need to see what I should do. Thanks again.

But, won't an upward movement in ASI have some support for ACME?

Axe




Posts

: 251


Join date

: 2014-02-23



Page 5 of 5 •

1, 2, 3, 4, 5

---
Permissions in this forum:
You
cannot
reply to topics in this forum