April 2020
| Sun | Mon | Tue | Wed | Thu | Fri | Sat |
| --- | --- | --- | --- | --- | --- | --- |
| | | | 1 | 2 | 3 | 4 |
| 5 | 6 | 7 | 8 | 9 | 10 | 11 |
| 12 | 13 | 14 | 15 | 16 | 17 | 18 |
| 19 | 20 | 21 | 22 | 23 | 24 | 25 |
| 26 | 27 | 28 | 29 | 30 | | |
Calendar

Disclaimer

Information posted in this forum are entirely of the respective members' personal views. The views posted on this open online forum of contributors do not constitute a recommendation buy or sell. The site nor the connected parties will be responsible for the posts posted on the forum and will take best possible action to remove any unlawful or inappropriate posts.
All rights to articles of value authored by members posted on the forum belong to the respective authors. Re-using without the consent of the authors is prohibited. Due credit with links to original source should be given when quoting content from the forum.
This is an educational portal and not one that gives recommendations. Please obtain investment advises from a Registered Investment Advisor through a stock broker
Page 2 of 2 •

1, 2

For your Info This is the announcement on CSE site as well.
https://cdn.cse.lk/cmt/announcement_portal_prod/Access%20-%20Sale_8516184717902284.pdf
hammurabi wrote:

NIRMALSG wrote:Be careful about these movements specially for short term traders, just feeling bad quoter for AEL. But still its valuable opportunity for long term perspectives.  

June 22, 2019 (LBO) – Colombo Stock Exchange (CSE) listed Access Engineering (AEL) in a stock market disclosure reported that a non-executive director had sold a significant amount of his shares.

Ranjan Gomez has sold 30,000,000 shares at a price of Rs13.2/share. Total proceeds from the sale of shares is approximately Rs400mn.

As of March 31, 2019, Gomez had reported a total shareholding of just over 75,000,000 shares. The insider sale is roughly 40% of his total holdings. Gomez has been a seller of significant amounts of stock over the years, however this recent large sale is at a strikingly low price.

As of March 31, 2019, AEL reported a net asset value of Rs21.4/share. Gomez's sale at Rs13.2/share represents a valuation of just over 60% of book value.

AEL's last quarterly results were solid reporting net income of just under Rs700mn for the quarter, however the construction industry is being badly affected by the recent economic downturn.

Most stocks on the CSE are trading at low valuations due to a confluence of negative catalysts which include a slowing economy, a constitutional crisis, and one of the worst incidents of global terrorism in recent history.

Did he cross it at 13.20??? Friday?

NIRMALSG




Posts

: 288


Join date

: 2019-02-17


Location

: Colombo



Its really interesting to see the price movement when market momentum changes. Almost 3 years this was declining, it getting huge attention on traders today it self have very positive movement.
Since Presidential election coming soon we could see more positive movement on this with the market upward trend.
Statistically also it have the potentially of going further more  


Net assets value per share LKR 20.78
Earnings per share LKR 3.07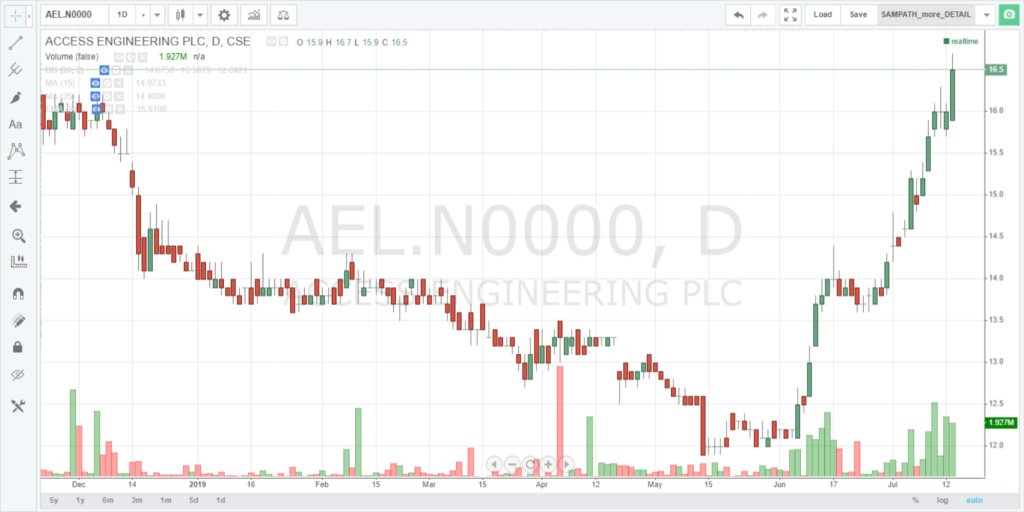 Last edited by NIRMALSG on Mon Jul 15, 2019 3:12 pm; edited 1 time in total (Reason for editing : Update the image link)

NIRMALSG




Posts

: 288


Join date

: 2019-02-17


Location

: Colombo



Page 2 of 2 •

1, 2

---
Permissions in this forum:
You
cannot
reply to topics in this forum