February 2019
| Sun | Mon | Tue | Wed | Thu | Fri | Sat |
| --- | --- | --- | --- | --- | --- | --- |
| | | | | | 1 | 2 |
| 3 | 4 | 5 | 6 | 7 | 8 | 9 |
| 10 | 11 | 12 | 13 | 14 | 15 | 16 |
| 17 | 18 | 19 | 20 | 21 | 22 | 23 |
| 24 | 25 | 26 | 27 | 28 | | |
Calendar

Disclaimer

Information posted in this forum are entirely of the respective members' personal views. The views posted on this open online forum of contributors do not constitute a recommendation buy or sell. The site nor the connected parties will be responsible for the posts posted on the forum and will take best possible action to remove any unlawful or inappropriate posts.
All rights to articles of value authored by members posted on the forum belong to the respective authors. Re-using without the consent of the authors is prohibited. Due credit with links to original source should be given when quoting content from the forum.
This is an educational portal and not one that gives recommendations. Please obtain investment advises from a Registered Investment Advisor through a stock broker
Page 8 of 8 •

1, 2, 3, 4, 5, 6, 7, 8

Foreign selling of JKH continues to plague Colombo bourse

February 8, 2019
The Colombo Stock Exchange (CSE) continued this week to suffer from foreign selling of stocks.
For the week ended today, net foreign selling was approximately Rs900mn, this is up from Rs400mn net foreign selling in the previous week.
The foreign selling figures do not include significant foreign selling that would have happened when Sri Lanka's leading blue chip company John Keells Holdings (JKH) executed a buyback offer to repurchase approximately Rs10bn (US$56mn) worth of stock last week. It is expected than most of the stock which was repurchased was sold by foreign institutions.
Despite the heavy foreign selling in JKH stock, the price has held relatively steady as Sri Lanka's largest high net worth investors, Harry Jayawardena and the Captains, have been aggressively increasing their positions in the company. Together they now likely own well over 30% of the shares of the company. They have been accumulating shares at prices close to book value.
Foreigners sold a net Rs23bn (US$130mn) worth of Sri Lankan equities in 2018, and to date in 2019 have likely net sold well over Rs10bn (US$55mn) net for the year if figures from the JKH buyback execution are included.
Sri Lanka stocks look cheap with a market PE of less than 10, and price to book ratios approaching book value.
http://www.lankabusinessonline.com/f...olombo-bourse/

ruwan326




Posts

: 301


Join date

: 2016-09-29


Age

: 40



British medical device manufacturer to set up US$ 10 mn plant in Bandaragama
February 8, 2019
BOI approval granted for the first medical device manufacturing plant with 600 new jobs
Champika Malalgoda, Director General of the BOI presents the Certificate of Registrations to Ghassem Poormand, Chairman of Flexicare (Group) Ltd. Hash Poormand, Managing Director of Flexicare is also in the picture
A leading UK manufacturer has gained BOI approvals to begin laying the foundation for its newest state of the art manufacturing facility in Sri Lanka.
Flexicare (Group) Limited is a UK headquarted manufacturer and supplier of medical devices, with subsidiaries in over 12 countries and two manufacturing sites, providing disposable medical consumables to over 110 countries.
The agreement was signed on behalf of Flexicare by Ghassem Poormand, Chairman of Flexicare (Group) Limited.
Also present at the signing ceremony were Hash Poormand, Managing Director and Sanjeeva Jayasinghe, General Manager Flexicare Sri Lanka. Champika Malalgoda, Director General of the BOI also participated.
Ghassem Poormand, Chairman of Flexicare (Group) Limited stated "We are a privately owned British Company which has been in existence for 20 years. Our products include anesthesia and respiratory products such as oxygen masks and nebulizers."
He added, "Flexicare products are exported to 110 countries. The group has subsidiaries in the USA, Germany, Japan, the Netherlands, Italy, Australia, India, China, South Korea and Malaysia."
Flexicare Lanka was established in 2018 with a view to build a new bespoke operation in the heart of Sri Lanka, that will seek to support both the local market which Flexicare has been supplying with its exclusive distribution partner Technomedics International Pvt Ltd. This is for more than 15 years, and also the international healthcare arena that Flexicare is active in.
The project which will be located in Bandaragama is expected to represent an investment in excess of U$10 mn over the course of the coming years and will create 600 new jobs in the region, in what is the first medical device manufacturing of its kind in the country with a fully integrated operation. 
Sri Lanka was chosen as the outright choice for its 3rd manufacturing site due to the excellent infrastructure and forward investments in the country as well as its access to a world class export port that will serve the global markets that Flexicare is active in.
Ghassem Poormand said, "Manufacture has been done in China since 2003 due to the expansion and growth of the business. We decided to manufacture in Sri Lanka due to market access to South Asia and South East Asia."
"In Sri Lanka, the manufacture will initially be for items such as oxygen masks, nasal capula, Aerosol products and later be expanded to anaesthetic products."
"We strongly feel that the project will significantly contribute to the growth of the national economy and help towards the achievement of the government's long term goals relating to "Vision 2025" for the development of the healthcare sector as well as creating jobs and exports."
​​​​​​​
http://dailynews.lk/2019/02/08/business/176905/british-medical-device-manufacturer-set-us-10-mn-plant-bandaragama

ruwan326




Posts

: 301


Join date

: 2016-09-29


Age

: 40



Dhammika Perera prescribes policy dose
11 February 2019
Outlines his policy priorities
Says education should be core of national policy
Insists scaling up education essential for social development and economic growth
Suggests ministries and institutions should be locked in so Government cannot change them
Advocates adapting policies that have been successful in other countries
A data-based approach to policymaking was advocated by well-known businessman Dhammika Perera to rapidly expand Sri Lanka's economic growth, with special emphasis on education.
Perera, speaking at an event organised by the National Intellectuals Organisation (NIO), last week gave detailed ideas of what should be included in a national policy, which could be implemented by the Government. 
Indicating how complex national policy making could be, Perera nonetheless recommended that education should be at the core of any policy document. NIO is planning to release a comprehensive national policy document later this month, which Perera noted should have a wide range of development goals on labour, employment creation, environmental management, entrepreneurship, exports and investment.
"Sri Lanka had the Nalanda University before the British had Oxford and Cambridge. At that time, we were far ahead of the British. Then the Nalanda University closed and no effort was made to establish another university. However, Oxford and Cambridge flourished and the British eventually became an empire that colonised us. Even today, when the world is at the cusp of huge technological advances, what is referred to as the Fourth Industrial Revolution, education is the most important thing. So if we want to develop Sri Lanka, we need to focus on education," he said.
Extrapolating from data on Sri Lanka's higher education system, Perera pointed out that a large number of students fail to get into State universities.  He stated that popular universities such as Sri Jayewardenepura University had the space to educate double the number of its current student population but resources were unavailable. 
Perera acknowledged the Government would have to funnel in a few billion initially to expand facilities but should then allow universities to generate income and expand to teach thousands of new students.
"Monash University and Sri Jayewardenepura have the same amount of space, but Monash educates thousands of students more than Sri Jayewardenepura. Why is this? We have to create a change in these institutions so they are able to educate far higher numbers of students. Facilities alone should not restrict their opportunities. If we wait on the Government to provide finances, we never move forward. Different thinking is needed."
Education reform is crucial, Perera said, because it is closely tied to social development. With education the population can adapt to a changing economy and be more competitive to be stakeholders in a knowledge economy. The rapid advancement of -driven industries would give Sri Lanka an edge to improve exports and attract investment. It would also enable the population to adapt faster to new job opportunities.
"Sri Lanka has a labour market of about 8.2 million people. However, this number of employed people can change given different market conditions. According to the latest data, about 400,000 jobs have been lost in the Agriculture sector. This is largely because of drought where 400,000 jobs have transitioned out of agriculture. It may be that they found jobs in other sectors but such serious fluctuations should be avoided as it means that a large segment of the population is affected."
Any national policy should have the ability to be relevant even five to 10 years from now, Perera said. Making the policy relevant to the average Sri Lankan is critical to getting stakeholder buy-in and push for implementation. Perera also suggested that the NIO should adopt policies that have been successful in other countries so that it has had real work testing.
"When someone comes to me with an idea, I ask them to tell me at least four countries where something similar has been implemented, because otherwise we just waste time figuring out whether it would work. One important thing the NIO should do is lock in the number of ministries that each government should have and ensure that even the institutions under those ministries are locked in and cannot be changed by different governments. Then this current discourse on how many ministers and what institutions they should have will all be resolved. This is how countries like Ireland, Singapore and Malaysia formulate policy."
Having a stable State structure would allow for national policies to be implemented in a sustainable manner, he added.
http://www.ft.lk/top-story/Dhammika-Perera-prescribes-policy-dose/26-672649

ruwan326




Posts

: 301


Join date

: 2016-09-29


Age

: 40



Foreign investors like stability, plow $ 100mn back into Sri Lanka's bonds
February 9, 2019
Foreign institutional bond investors have started to aggressively re-enter Sri Lanka's government bond market after a rapid exodus in 2018. In the last 3 weeks, foreign investors have invested close to a net of US$100mn into Sri Lanka's bonds. This comes on the back of close to a billion dollar outflow in 2018.
Stability has returned to Sri Lanka's economy after constitutional democracy was strongly upheld amid moves to execute an illegal transfer of governmental power. Confidence in Sri Lanka's government and Prime Minister Ranil Wickremesinghe is starting to exhibit itself in Sri Lanka's capital markets.
Bond investors, often termed the 'smart money' have made an aggressive move back into Sri Lanka, while foreign equity investors continue to exit. Inflows into Sri Lanka's bond market are likely one of the key factors which have lead to a 3% surge in Sri Lanka's currency (LKR) versus the dollar 2019. Analysts expect more inflows if Sri Lanka is able to execute a successful sovereign bond offering.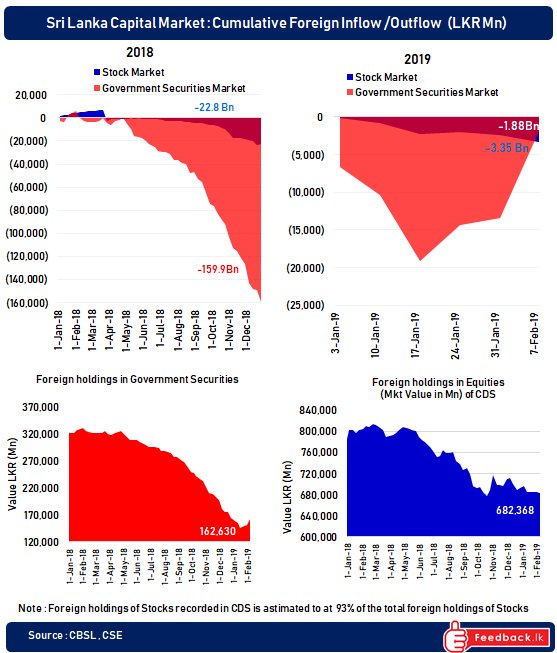 http://www.lankabusinessonline.com/foreign-investors-like-stability-plow-100mn-back-into-sri-lankas-bonds/

ruwan326




Posts

: 301


Join date

: 2016-09-29


Age

: 40



About time. Hoping $ will stabilize below 175/=

Backstage

Top contributor





Posts

: 3330


Join date

: 2014-02-24



Horana Export Processing Zone Contributes US$ 31.8 Mn In Export Revenue
February, 12, 2019
The BOI's Horana Export Processing Zone contributed US$ 31.8 Mn (Rs.5, 796.7 Mn) in export revenue as at end of 2018.
Horana Export Processing Zone is located in the Kalutara District in the Western province. It is located 80 Km away from Bandaranayake International Airport, 55 Km from Colombo Port and only 18 Km to Southern Expressway.
The Horana EPZ was established in 1999 on a land area of 395 acres of which 178 acres are industrial land. The infrastructure facilities at the zone include water, the processing of waste water and electricity, making it attractive to investors.
The zone's enterprises have a significant impact on the local economy as they provide employment to 2428 staff. The Zone therefore promotes the Government's objective to develop regional industrialization.
There are currently 21 enterprises in commercial operation at the Horana EPZ involved in the manufacture of Apparel & Accessories, Food, Wooden, Consumer, Steel & Aluminum, Paper and Plastic products.
Among the leading enterprises at the Horana EPZ are Unilever Sri Lanka Ltd which manufactures consumer products such as soaps, shampoos and toothpaste, Nature rub Export Intl. (Pvt) Ltd manufacture apparel accessories including yarn and lace, Eco Spindles Pvt Ltd manufacture yarn by recycling plastic bottles.
http://bizenglish.adaderana.lk/horana-export-processing-zone-contributes-us-31-8-mn-in-export-revenue/

ruwan326




Posts

: 301


Join date

: 2016-09-29


Age

: 40



Govt funds research on value added spice products
13 February 2019
Funds have been allocated to carry out research on adding value to local spices in order to expand export markets. Minister of Primary Industries and Social Empowerment, Daya Gamage said, Rs. 146 million has been allocated for research on spices which is being carried out by five universities.
At present cinnamon is the largest foreign exchange earner in the spice sector, Gamage said, adding that lack of human resources is an issue for the expansion of the sector. The spice sector can be developed further through value addition and innovation," he said speaking at the soft launch of 'the Global Spice Road Symposium (GSRA 2019) to be held from July 10 to 13 in Colombo.
Through the symposium, the Sri Lankan spice sector is looking at expanding the sector with technological collaborations and investments. The spice industry representatives envision that Sri Lanka as a main spice country and the growers and the exporters will be able to benefit through technological collaborations and knowledge sharing sessions during the symposium.
The main objective of this event is to create an upheaval in the main segments of spice, namely, agronomy, post harvesting, primary processing, technological intervention and value addition and export and commercials.
Along with product quality, the hygienic factor of low quality spices augmented through the use of health hazardous chemicals, which in fact has been a negative factor contributing to the diminishing demand for Sri Lankan Spices.
About 75% of cinnamon used in North America is cassia cinnamon. Most of this is imported from Indonesia. The remaining 25 % that is consumed in North America is Ceylon cinnamon from Sri Lanka. Both the United States and Canada largely consume cassia cinnamon. Mexico, on the other hand, largely consumes Ceylon cinnamon.
According to the Global Spice Road Symposium Secretariat, the main challenges and constraints confronted mainly by producers and exporters will be addressed in the forum to secure a holistic approach to identify the most feasible solution
http://dailynews.lk/2019/02/13/business/177360/govt-funds-research-value-added-spice-products

ruwan326




Posts

: 301


Join date

: 2016-09-29


Age

: 40



රටේ ගිණුම් පද්ධතිය ලොකු අවුලකට පත්වෙලා. රටේ ණය තවමත් හොයාගන්න බැහැ – විගණකාධිපති

February, 12, 2019
මේ වන විට මෙරට රාජ්‍ය ගිණුම් පද්ධතිය විශාල අවුලකට ලක්ව ඇති බව විගණකාධිපති ගාමිණී විජේසිංහ මහතා පවසයි. දෙරණ talk with Chathura වැඩසටහන සමඟ එක්වෙමින් විගණකාධිපතිවරයා මේ බව කියා සිටියේය. මෙහිදී අදහස් දක්වමින් විගණකාධිපති ගාමිණී විජේසිංහ මහතා, "රටේ ණය තවමත් හොයාගන්න බැහැ. ඒක හොයන්න පුළුවන් එකක් නෙමෙයි", යැයි පැවසුවේය.
ප්‍රශ්නය - රටේ ණය බර ට්‍රිලියන 11 ක් කියලා කියනවා?
පිළිතුර - ඒ සටහන් වෙලා තියෙන ගාණ. ඒක කියන්න පුළුවන් ඕන කෙනෙකුට. මහ බැංකුව කියන ගණන තමයි ට්‍රිලියන 11, ඒක මහ බැංකුවේ පොත්වල තියෙනවා. ඊට අමතරව ණය තව විශාල ප්‍රමාණයක් තියෙනවා. මහ බැංකුවේ අනුමැතියෙන් තොරව, එහෙම නැත්නම් ඒ චැනල් එකෙන් පිට ණය ගැනීම් ක්‍රමවේද ගොඩාක් තියෙනවා. ඒ නිසා තමයි ඒ ප්‍රශ්නය වෙලා තියෙන්නේ.
ප්‍රශ්නය - මේක වැරැද්දුවේ ගිය ආණ්ඩුවද?
පිළිතුර - මේක පසුගිය දශක දෙක පමණ තුල, විශේෂයෙන්ම පසුගිය කාලයේ මේ ණය පිළිබඳ ප්‍රශ්නය පැනනැගුණු නිසාම, මධ්‍යම ණය ගැනීමේ බව විමධ්‍යගත මට්ටමකට පත් කළා. ඒ හරහා ණය ගත්තා, සටහන් වුණා, එක එක තැන්වල වාර්තා වෙලා තියෙනවා. නමුත් අපි කියන ගනුදෙනු ඇතුළට, එකතු වීමේ නැති ප්‍රශ්නේ තමයි එතන තියෙන්නේ.
ප්‍රශ්නය - එතකොට අපේ රට කීයක් ණයද කියලා, කවුරු හරි ඇහුවොත් ?
පිළිතුර - දන්නේ නැහැ කියන්න.
අපි ණය ගත්ත ප්‍රමාණය දන්නවා නම් විතරනේ අපිට ඒක ගෙවන්න ලැහැස්ති වෙන්න පුළුවන් වෙන්නේ. නමුත් විශේෂයෙන්ම රටේ, ගිණුම් පද්ධතිය ලොකු අවුලකට පත්වෙලා තියෙන්නේ. ගොඩාක් රාජ්‍ය ආයතනවල Single entry කියන සිස්ටම් එකට තමයි ගිණුම් පවත්වා ගෙන යන්නේ. එතකොට අපිට හොයා ගන්න පුළුවන්කමක් නැහැ, ඇත්ත වශයෙන්ම, ණය ගත්තාම ණය ශේෂය.
හුඟක් වෙලාවට මුදල් පදනමට (cash basis) ගිණුම් පවත්වන්නේ. එතකොට ගෙවිය යුතු ශේෂයන් විශාල වශයෙන් ආයතනවල තියෙනවා. ඒක හරියට වාර්තා වෙන්නේ නැහැ. හරියටම නිවැරදි ශේෂයක් හඳුනාගන්න ක්‍රමවේදයක් තවමත් ඇත්තටම නැහැ.
http://biz.adaderana.lk/%E0%B6%BB%E0%B6%A7%E0%B7%9A-%E0%B6%9C%E0%B7%92%E0%B6%AB%E0%B7%94%E0%B6%B8%E0%B7%8A-%E0%B6%B4%E0%B6%AF%E0%B7%8A%E0%B6%B0%E0%B6%AD%E0%B7%92%E0%B6%BA-%E0%B6%BD%E0%B7%9C%E0%B6%9A%E0%B7%94-%E0%B6%85/

nihal123

Top contributor





Posts

: 5261


Join date

: 2014-02-24


Age

: 52


Location

: Waga




Ethical Trader

Top contributor





Posts

: 4888


Join date

: 2014-02-28




Ethical Trader

Top contributor





Posts

: 4888


Join date

: 2014-02-28



Jafferjee, Abeyesekera on Sri Lanka stock exchange board
Feb 13, 2019 
Murtaza Jafferjee, chairman of JB Securities, and Dimuthu Sanjaya Abeyesekera, director and chief executive of Asha Phillip Securities Ltd., have been appointed as directors of the Colombo Stock Exchange (CSE).
A CSE statement said the appointments were with effect from 1st February 2019. 
Abeyesekera's Asha Phillip Securities is affiliated with Phillip Capital Singapore, a specialised financial services organisation managing assets worth over US$35 billion with a network of offices around the world.
"He is an experienced capital market professional counting over 30 years in the industry," the CSE said. 
Abeyesekera is also a Director at Asha Financial Services, a specialised margin trading company in Colombo and is a past Chairman of the Colombo Stockbrokers Association (CSBA). 
Jafferjeeis has over 25 years of experience in the capital markets across multiple asset classes, the CSE said. 
He serves on the Board of Nations Trust Bank PLC and Serendib Hotels PLC as an Independent Director and also served on the Board of the CSE from August 2007 to July 2009.
Jafferjee holds a Bachelors' Degree in Mechanical Engineering and Computer Science from the University of New South Wales, Australia and a Masters' Degree in Financial Economics from the University of Colombo. 
As a CFA charter holder, Jafferjee "makes an annual pledge to abide by the highest levels of ethics and professional conduct," the statement said. 
https://economynext.com/Jafferjee,_Abeyesekera_on_Sri_Lanka_stock_exchange_board-3-13436-3.html

ruwan326




Posts

: 301


Join date

: 2016-09-29


Age

: 40



Page 8 of 8 •

1, 2, 3, 4, 5, 6, 7, 8

---
Permissions in this forum:
You
cannot
reply to topics in this forum